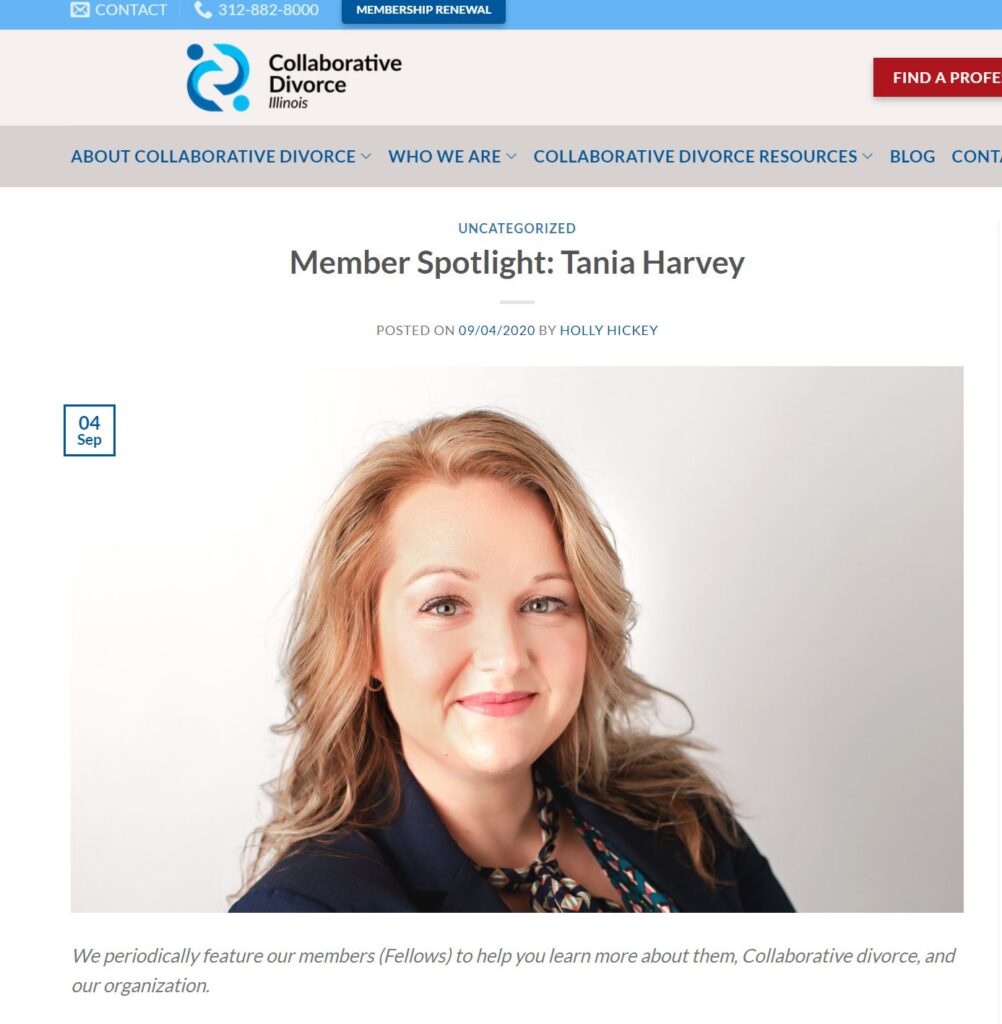 Early this month, I was featured by Collaborative Divorce Illinois. I was asked to discuss the benefits of the collaborative divorce process. Aside from saving you time and money and giving you power over the results of your divorce agreement, collaborative divorce uniquely positions you and your partner to devise a co parenting agreement that is beneficial to everyone.
A divorce can be difficult, especially for children, and as a parent you want to ensure they are protected. There are many unique aspects of the collaborative process. Things such as decision making power and consulting a child-specialist will set you and your family up to have a successful co parenting relationship that allows you to move on with your life, while looking out for the best interests of the child. 
How can collaborative divorce help me and my partner establish an effective Co parenting relationship?
During a collaborative divorce, you, your partner, and your attorneys will all work together to create a co parenting plan. You will determine where the child will reside and how much parenting time you and your partner will receive. Your attorneys will ensure that key issues are discussed, such as holidays, weekends, summers, special events, and vacations. 
You will also discuss how important decisions are handled regarding education, religion, medical decisions, and other day to day things related to raising a child. There will also need to be decisions made about money and child support.
Together, you will all work to create a co-parenting plan that is in the best interest of everyone involved. In addition, you will discuss parameters for a healthy co parenting relationship. In the end, the collaborative law process protects the children and safeguards their futures. 
The key benefit in collaborative divorce is that you and your partner have decision making power for all aspects related to raising a child. If a divorce goes to court, the decision making power is taken away from you and given to a judge. There are many things to worry about with litigation. Primarily, the judge does not know you and your family and may not formulate solutions that benefit everyone. In fact, it is more likely with litigation, that you and your child's needs may not be adequately addressed.
Another concern with litigation is that you have to accept whatever the judge decides. If you or your partner feel like the outcome was not mutually beneficial, this sets you up for a contentious relationship moving forward. This may cause undue difficulty with co parenting if one party feels resentful about the agreement.
How does the child-specialist help in collaborative divorce?
A unique aspect of collaborative divorce is the role of the child-specialist. All parties will meet with a child-specialist individually, so they can get a better understanding of the family dynamics and the needs of the children. Traditionally, the child specialist is a therapist with experience specifically in separation and divorce. That puts the child-specialist in a unique position to discuss the process with children and bring his/her perspective to the collaborative process. 
The child-specialist is not there to take anybody's side. They are not there to advocate for a particular co parenting plan. They are there to educate you and provide additional expertise. They are there to provide guidance so your family's goals are met. Most importantly, the child-specialist is there to  keep you focused on the child, which is what matters!
Collaborative divorce is best for establishing an effective ongoing co parenting relationship
Collaborative divorce puts you and your partner in the best position to co parent after the divorce is finalized. Because you are involved in every aspect of decision making, you will walk away feeling certain that your agreement is mutually beneficial and sets you and your child up for success in the future. This will be a major step in fostering a healthy relationship so your child can effectively navigate this new arrangement and so your child can continue to thrive.