Collaborative divorce is one innovative approach to family law that The Law Office of Tania K. Harvey executes efficiently and effectively. The collaborative law process protects families from an adversarial litigation process that often has outcomes that don't benefit anyone. Instead, both parties make a commitment and negotiate a settlement that works for everyone.
the collaborative divorce process
The first, and most important step, in the process is determining whether it is right for you and your spouse. With collaborative law, both parties must be willing to collaborate and have an amicable divorce. Both parties must also be willing to develop an effective co-parenting agreement and allocate financial resources to ensure this relationship is successful. In addition, both parties must set aside animosity or resentment towards one another in order to work together productively and produce profound results for all parties.
Once you have decided that collaborative divorce is the innovative approach you will pursue, your next step is to hire an attorney. These attorneys, like The Law Office of Tania K. Harvey, are specially trained in collaborative law and are qualified to guide you through the process. 
Collaborative divorce lawyers are not neutral, they are still committed to ensuring your needs are met and that you will have a fulfilling future. However, they are masterful at negotiating with the other side and guaranteeing smarter solutions for everyone. In fact, your attorney, and your spouse's, are incentivized to craft a mutually beneficial agreement. If they are unsuccessful, then they are dismissed as your attorneys and new hires will have to be made to pursue litigation.
As your potential collaborative divorce attorney, The Law Office of Tania K. Harvey has the commitment and compassion to craft a compelling compromise that can move you forward to the next stage in your life.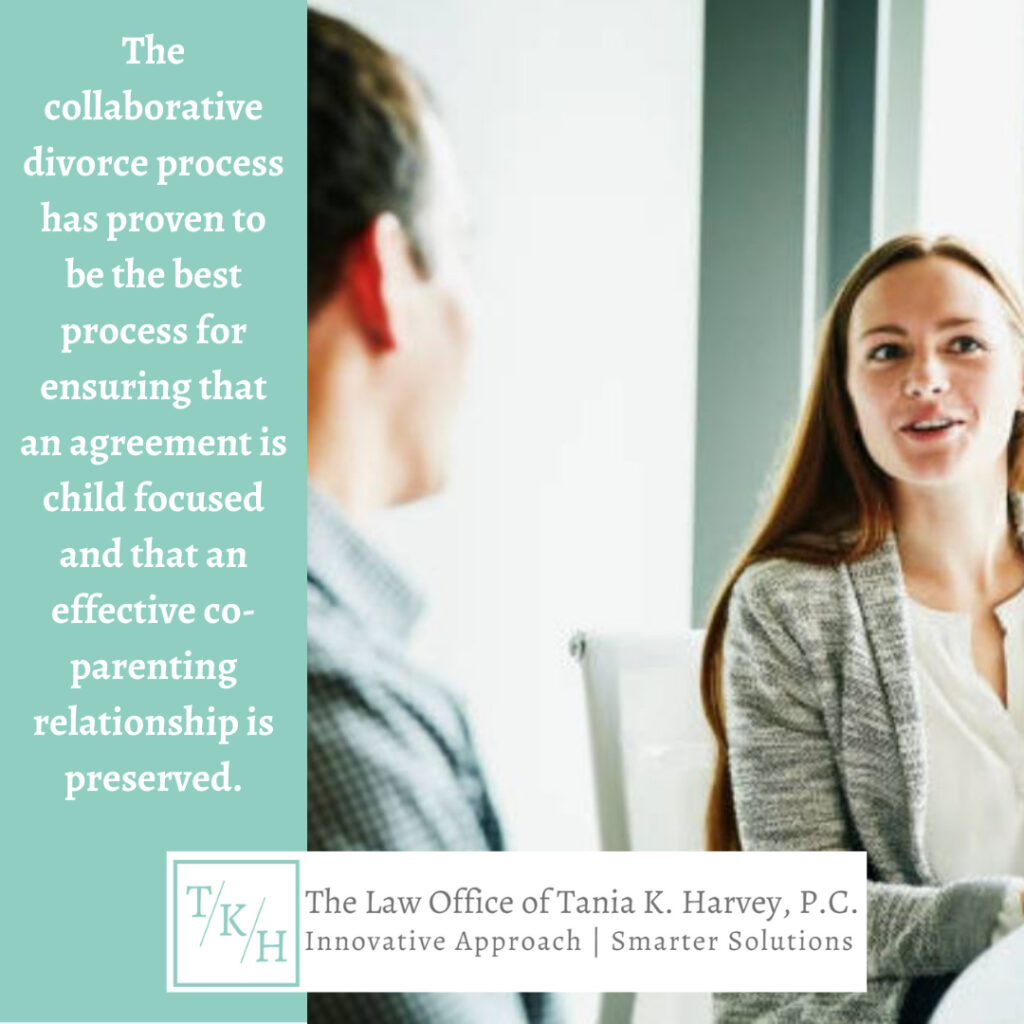 As someone who has been a child representative, guardian ad litem, court appointed attorney for a child, and most importantly, a parent, the real focus of any case is the best interest of a child. And in my experience, the collaborative divorce process has proven to be the best process for ensuring that an agreement is child focused and that an effective co-parenting relationship is preserved.
A unique aspect of collaborative divorce, is the "Participation Agreement" that you, your spouse, and your lawyers will sign. This affirms your commitment to utilizing the collaborative process and forgoing litigation. You and your spouse agree to provide all relevant information, to work together respectfully, and to focus on smart solutions that benefit everyone, especially any children involved.
After the "Participation Agreement" is signed, the process can move forward. It may be necessary to consult some additional professionals at this point to ensure everyone's needs are met. It is not uncommon for collaborative divorce attorneys to work with child specialists, mental health professionals, or financial specialists to keep the process moving forward. Then, with the help of your team, you will resolve all of your issues during a series of meetings.
At these meetings, if you choose our firm to represent you, we will have a clear strategy, advise you on all legal issues, and guide you through every negotiation. We will ensure that all parties maintain civility and stay focused on procuring meaningful results that meet everyone's goals.
The final step, once an agreement has been reached, is to file the case and attend the court hearing. At this point, all of the difficult work has been done, so this step is more of a formality. Now you can move forward, knowing that you had an amicable, rather than ugly divorce. You can move forward, knowing that decisions were made in the best interest of everyone. And, you can move forward, knowing that you decided your own fate rather than some random judge whom you have never met.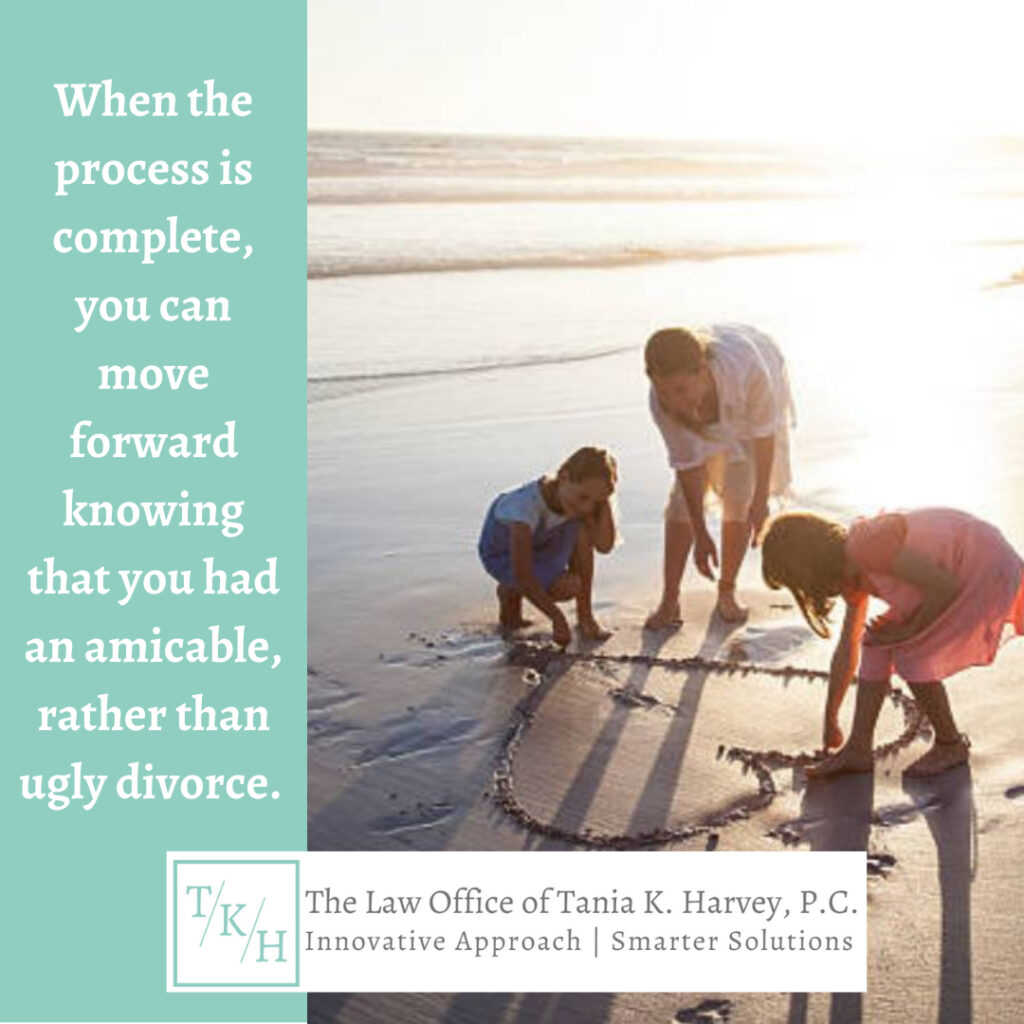 At The Law Office of Tania K. Harvey, we strive to reduce the stress and pain that can go along with divorce. We have found that collaborative divorce is the most efficient and effective process to create smarter solutions that meet everyone's' needs and protect your family's future.
With collaborative divorce, you can control the pacing, the cost, and the outcomes. You and your partner, your lawyers, and your collaborative divorce team work together to ensure that everyone has a future that is more stable and more secure.