Parenting plans can be difficult, especially when the parents are not in agreement on the terms of their parenting plan. However, since children grow and change rapidly, it is not unusual for a parent to want to make changes to the parenting plan due to new or different circumstances. As a collaborative divorce attorney Wheaton, I can help you modify your parenting plan.
According to a survey conducted by Pew Research Center's Parenting Group, more than half (54%) of parents said their parenting agreements had been modified at least once since they were originally drafted. Some modifications are minor and may only require an update or correction of information contained in your parenting plan. Others might be much more significant and impact how responsibilities are shared between each parent after divorce. Whatever the circumstances, our collaborative divorce attorney Wheaton at The Law Office of Tania K. Harvey, can help you with your parenting plan modification.
Circumstances Change
Circumstances change. New jobs, new schools, new homes, new neighborhoods, new friends, and hobbies are just some of the circumstances that can cause a parent to need a parenting plan modification.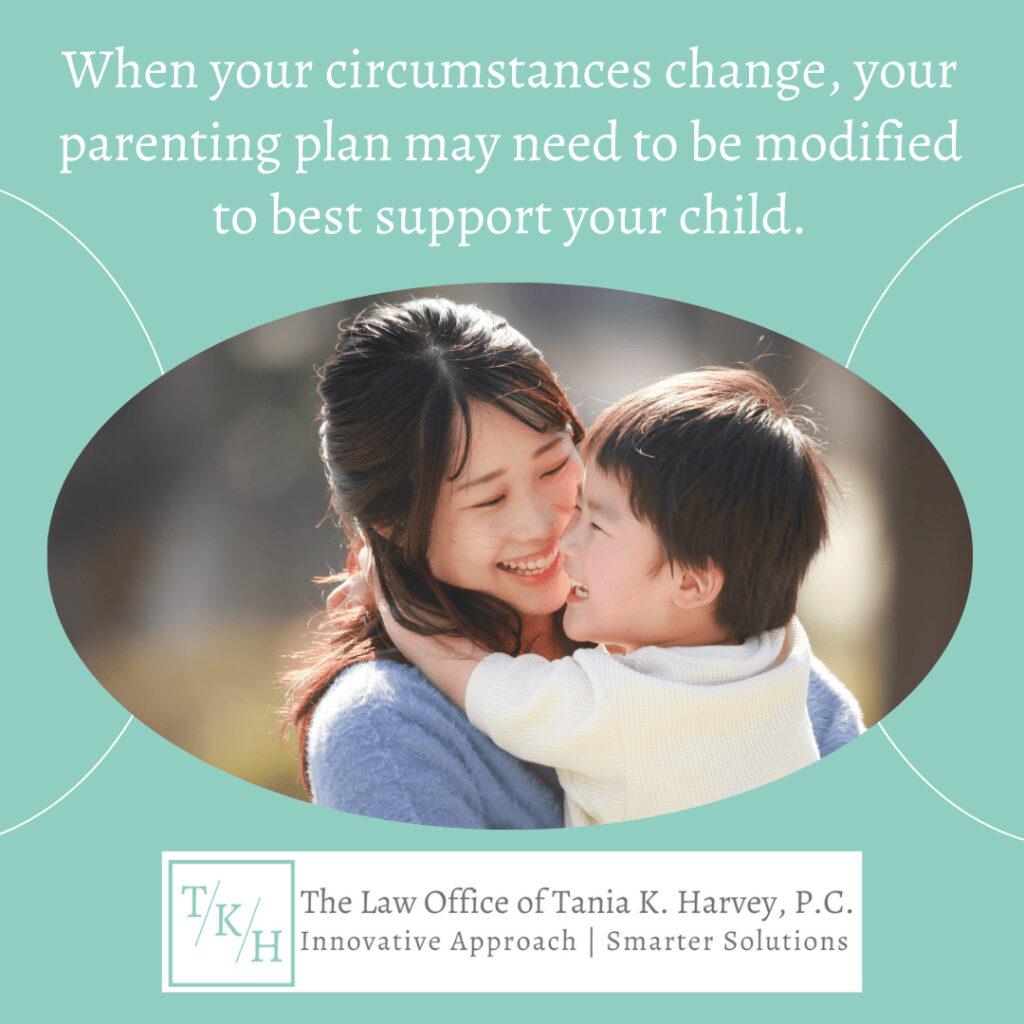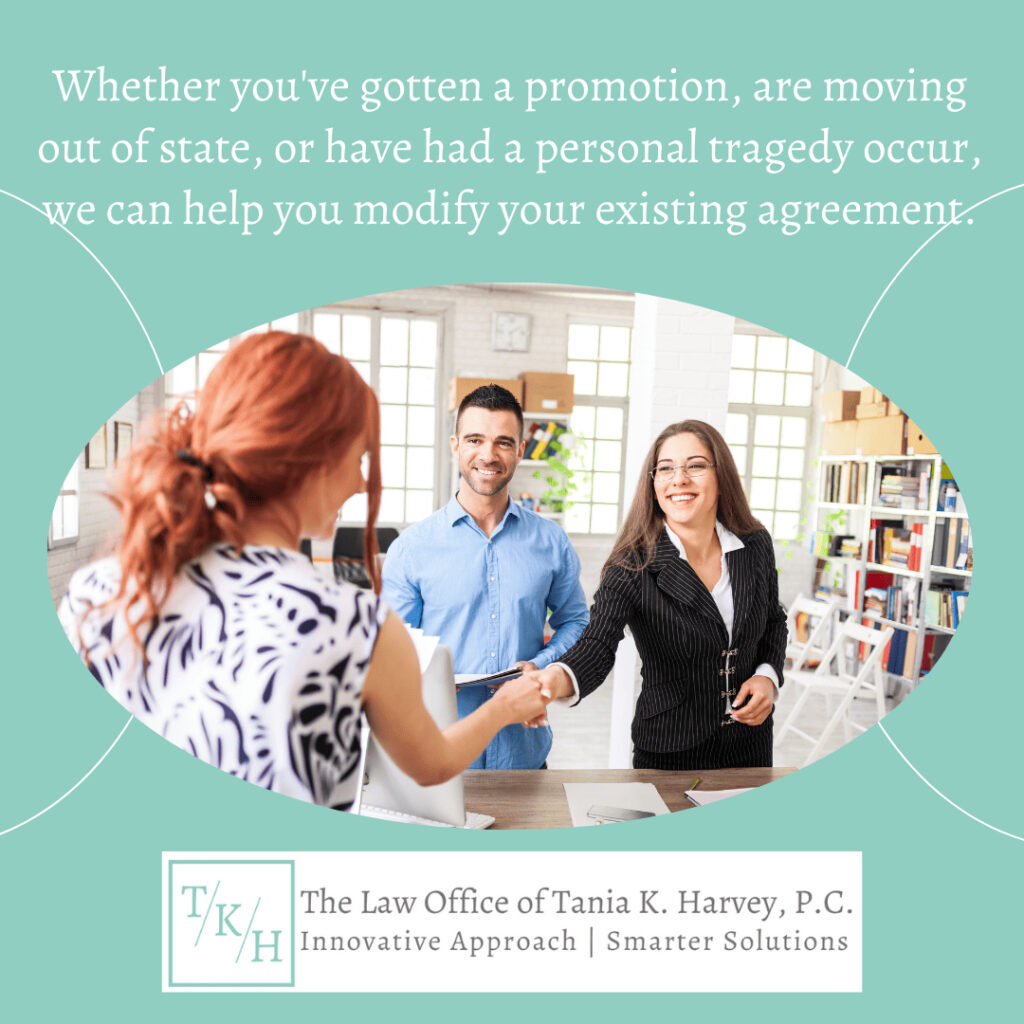 A child's school district may be reorganized resulting in different bus routes or after-school activities that make it difficult for one parent or both parents' schedules due to work hours and distance from home. Another example is when one parent remarries and moves into their spouse's house.
A parent's job location may change due to relocation or downsizing. A parent may get a promotion or switch to part-time work making it easier for them to spend more time with their child(ren). The addition or loss of health care coverage for one parent or the other can affect the initial parenting plan and may necessitate an update to child support payments.
When there is a change of residence or if you move to another state and your children do not go with you, then a modification may be necessary. This could drastically impact parenting time and affect who has decision making power for the children.
When circumstances change, so may a parents' ability to adhere to the same plan they had after divorce. This is when it is important to work with our collaborative divorce attorney Wheaton, to help you modify your parenting plan. Our attorneys can help. Contact us today – 312-803-5845.
Illinois Law Allows For Modifications to the Initial Agreement
Illinois law allows parenting time schedules to be modified by the court whenever the modification would serve the best interests of the child or children. The burden of proof is on the party seeking the modification because the courts will presume that the previous order was in the best interests of the child.
It is possible to modify the parental agreement, child support, and maintenance. When a divorce settlement or parenting plan is no longer appropriate parents may alter the terms of the agreement through a post-decree modification.
Our collaborative divorce attorney Wheaton can help you modify your existing agreement
A parenting plan is a living document and can be changed. These include changes to child custody or visitation, as well as significant changes in financial circumstances. If your case falls into one of these categories, it's very important that you talk with an experienced collaborative divorce attorney Wheaton, who knows how to handle these situations effectively so that your rights are protected. Our legal team will focus on the best interests of you and your child. Contact us today for a consultation.