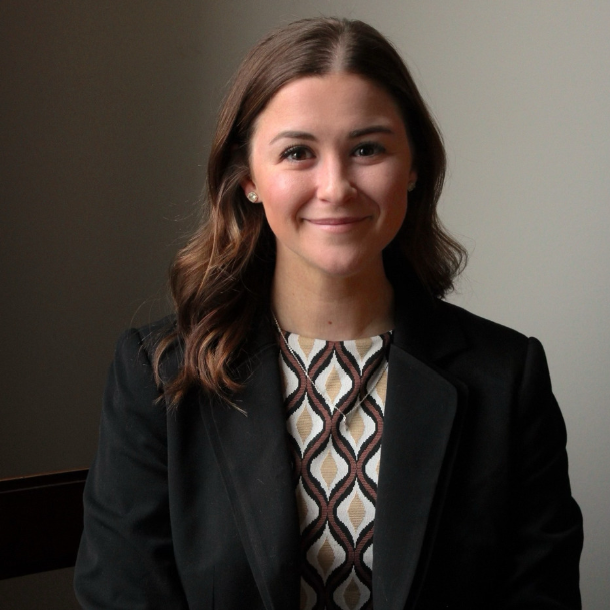 Most of the time, family law cases involve children or financial matters that will require parties to interact long after a resolution is reached. That is why, whenever possible, a collaborative approach is most effective. It allows all parties to reach an agreement that works for everyone now and in the future. I am grateful for the opportunity to work at The Law Office of Tania K. Harvey, where innovative approaches are used to empower clients to make the best decisions for their families and their financial futures.
Although I am a young attorney, I will bring new ideas, creative solutions, and fierce advocacy to each and every case. I know that every family is different and I will make sure I fully understand your goals, so we can take the best course of action to reach them. I will make sure that an agreement is reached that will allow everyone to move forward and have a fulfilling future.
I know a positive experience and positive outcomes are important to my clients and their families
As a family lawyer who has been through the process with my own family, I remember and can relate to the challenges that may be affecting you. I know how easy it is to get caught up in the issues of the case and I understand what it means to live with a decision that is not beneficial for everyone involved. My own experience definitely brought me to family law and continues to influence how I practice. Now, I work to reduce the challenges of the divorce process for my clients and to make sure the experience and outcomes are positive. 
As a family lawyer, I will make sure an agreement is reached that works for everyone and prevents any future problems
My practice of law is also influenced by my pro bono experience. During law school I participated in the student pro bono volunteer hours for the Domestic Violence Injunction Clinic in Milwaukee. Here I was able to support individuals seeking legal help by preparing domestic violence petitions. I am proud to have helped ensure that people got the protections that they wanted and that they deserved.
Now as I work with all types of families, I know that compassion is an important part of the practice. I will have patience and understanding with all my clients and families to ensure that the divorce process doesn't add any unneeded complications to their lives. And to make sure that there is a resolution that is beneficial to all those involved. 
In my free time I love to be with my family and my friends. I enjoy cooking for them and sharing meals. I also have my animals, two cats and a dog, that I consider part of my family. I like to get outside (as much as I can with this Chicago weather) to hike and explore. I really appreciate these peaceful times when I can reflect and reset.